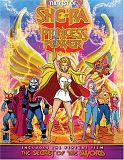 Today I cleaned the garage. Ho-hum, you might say, so what? A box or two, a shovel.
Uh. NO. Maybe you missed the video tour of my house. I moved A LOT of boxes, and a refrigerator. The MOG called me She-Ra. Thank ya, thank ya verr much.
Unfortunately, I misjudged how much room we needed for the ol' new minivan. So I wil have to do a little more shuffling to accomplish our final goal: be able to close the garage WITH the van inside.
Ah, controversy gets the blog hopping. I love it. Carry on, anonymous rabble-rousers!
And it's Friday, so hit me with your suggestions for my creative writing topic... I'll pick one for next week, probably not on Monday.