Part II in a historical series about we the Clarks. You can read Part I
here.
We got married in August of 1996. I was 17 and he was 18.
My parents went to the courthouse to sign me away, and to the poorhouse to pay for the wedding. Fortunately, they made trips to the poorhouse and back all the time, so within a few months, they were rich again. Until the next round, anyway. RIP Cal Stanley, computer extrordinaire but a little weak on the bookkeeping.
We were doing youth ministry and didn't really have any desire to go to college... to us, it was a stepping stone to a career and we already had the job we wanted, ministering to kids. We have never regretted that decision.
We set off on married life and very quickly landed amazing jobs making lots of money. We were 18 and rich (for teenagers, anyway) and we lived in an apartment by ourselves. We were pretty giddy.
3 months after we got married, we brought home a kitty, and then a 16 year old. Andrew was estranged from his family.. he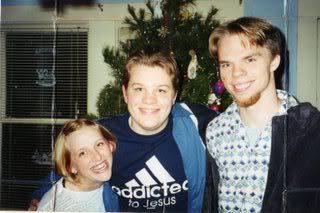 got invited to our home group (one of our kids invited him to a kegger, little did we know. He said he just kept waiting during the prayer and worship for somebody to break out the beer...) Both Andrew and the kitty (Chopper) lived with us for the next several years. We were working full-time, and doing youth services and home groups and it was crazy and busy but so fun.
We were either the same age or 2-3 years older than the kids we pastored... I got "carded" at more youth pastor functions than I care to remember. The pigtails and knee-high socks probably didn't help with my street cred.
Around this time, kids were just flocking to our youth services. It was a sovereign thing. We did very little promotion and no games. Just worship and preaching... and God showed up week after week and blew us all away. I quickly got an education in dysfunction. These were hurt kids, messed up kids. They were 14, 15 years old and in many ways on their own. My heart expanded and I LOVED them all. Even the ones who only came one time. I would look at them with their smeared eyeliner and scarred arms... and just see hurt little kids. They were beautiful. I miss those kids.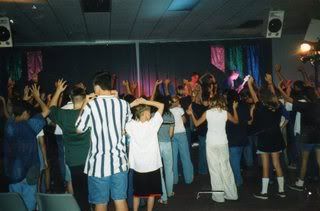 We gave ourselves body and soul to serving those kids for the next 3 years. During that time, Richy started writing songs... we had a hard time finding anything that really expressed our hearts and the movement, so he just started writing. More on that later.

We actually youth-pastored for 7 years, but I will stop here around the 3-year mark, because... 3 years into our 5-year plan, we discovered we were expecting our first mini-Clark!