Today I begin a historical series on me and the Mister, and our travels through life. I will publish a chapter every now and then, maybe weekly, maybe not. They will be somewhat chronological, although not religiously.

If I leave a subject under-represented, let me know and maybe I can give you some more info, you Nosy Nellys.
---
It all began when I was born.
Okay, I won't really go that far back. I'll start with the story of me and the man of God.
We met in 1994, when he was dating an acquaintance of mine.
Richy had risen to some renown in 9th grade, when he and his brother had led a band through a Metallica medley of sorts in the school talent show. (see: moshing in the bleachers) They (the Toxic Crayolas) were such a smash hit that we continued getting devil horns in public for a good 5 years after we were married. He got saved when he was 14, 15, and 16. It stuck after 16.
I was raised in church and Christian school, and while I may have had a peek or two at objectional words in a dictionary, I was basically pure as the driven snow. Through a series of events probably having to do with being broke, I ended up in public school after 9+years of private. I immediately bonded with the freaks and deviants in the drama department, and for the first time ever, found people who "got" me that didn't live in my house.
We were having revival, or renewal or something at my church, and Richy came to get him some Holy Ghost. We hit it off immediately. I thought he was so cute and bad with his long-ish hair and earring and musical skills. He thought I was smart and funny, although awkward-looking.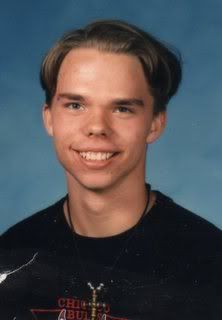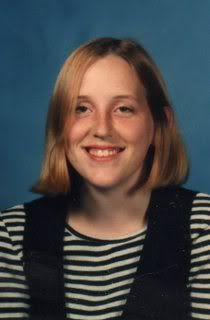 I had never met someone so passionate about God. I had also never met someone so messed up. (since then, I have met MANY far more messed up, but I was sheltered) I came to an understanding of pain, and of mercy and hunger for God. Simultaneously, I fell in love.
We started officially dating in November of 1994. I knew by January I would marry him. We went to our junior and senior proms together. We also started leading a youth ministry out of our local church, along with our friend Josh. It was the beginning of an explosive season of God saving young people in our youth group. I was 16, he was 17.
You may recognize
Josh
and
Shannon
. This is an entirely different Shannon from the one Josh ended up marrying. Josh also ended up choosing different eyewear, which was a very wise choice.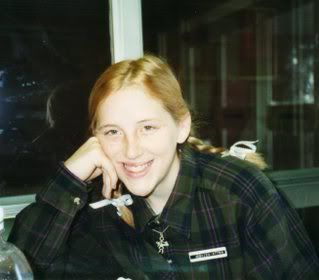 We got engaged in January of 1996, graduated high school in May, and got married in August. But THAT is another post.