This is another edition of the Clark archives, you can find older chapters over on the sidebar under "The Story of Us".
---
Okay, I'm going to jump around in chronology here, because I'm all sci-fi and I can do that. Last clarkive, I covered R2's birth.
Now we're going backwards to the 2 years prior to that, 1997-98. Richy and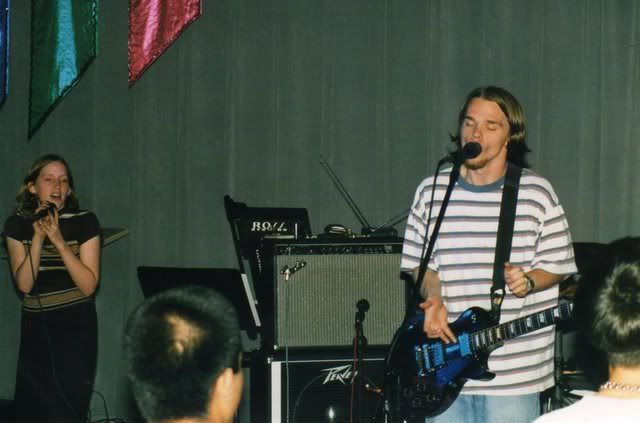 I were both working at Hewitt Associates, and doing youth ministry about 3 nights a week and over the weekends. Josh (josharoo) and Richy and I were doing full-time youth pastoring while holding day jobs, and we knew our goal was to be able to just do ministry. Our church was in the process of developing a ministry school, and Pastor Mike asked Richy if he would consider quitting his day job and going to the brand new Joshua School of Ministry.
When Richy asked me about it, I was all for it, with the condition that I could go too. So we began the process of quitting our jobs and moving back in with my parents, which freed our expenses up to be just our car payment and on occasion, even car insurance!
There were 8 of us in that guinea pig edition of Joshua School. We were committed to 4 hours of class a day, 3-4 hours of homework per day, and I forget how many prayer hours, plus the youth services we had already been doing. Basically, we were all suicidal.
We had to find creative ways to live during the 10 month program. For us, it was fairly easy. We lived with my parents and ate their food, plus the church paid us $500 a month to keep up what we were doing with the youth group, and I cleaned the church once a week.
For our friends, it was a bit more of a stretch.
•Ann came from Palestine, Texas and moved in with the Bretts, who already had 4 kids and a dog in a little house.
•John worked full-time overnights and came to class with a psychotic gleam in his eye.
<--John
•Josh sold knives, and a variety of other work-from home projects. Oh, and he
lived in a treehouse
. That cut way back on his expenses.
•His brother Jeremy lived in a shed. He had a bed and a desk and he might have had a block to walk to the restroom, I can't remember.

•Joseph and Tabitha came from India and lived with the Reicherts.

It was a hellish, wonderful year of our lives. We began the year with a course called Issues of the Heart, which makes you go deeeep and learn what is hindering you from loving others. It's kind of like a heart transplant without anesthetic. I consider my primary salvation experience as happening in that class.


Then we began the full school program. We were taught for about 4 hours, 5 days a week. Then we'd go home, or to our treehouse, and study and do the homework... things like: 
"Spend 3 hours in worshipful adoration before the Lord. Do not ask for anything. Journal your results." 
"Go to a public place and share a 1-minute version of your testimony with a stranger." 
"Find an unbeliever that is willing to go through a 10 week foundational Bible study with you." 
"Engage in an overnight corporate prayer gathering this week." 
And we did it. The only way to get your diploma of Ministry was to do 100% of the work. Every one of us graduated. We would have all had perfect attendance, too, but Josh went to jail once. Oh, and John had a nervous break of some kind from working so much and quit school for a few hours. But he came back.
When graduation finally came, everyone was just so relieved that the crazy ride was over, we didn't see what we had really done. But now, with the retrospect of 10 years (hey, we should have a reunion) I know that it was one of the best years of my life, and some amazing exponential growth. It gave us such solid roots and foundation for the course our lives would take.
When Pastor Mike's flight to graduation is late, Richy and Josh and I thoughtfully entertain the crowd.