Now, I know at least one of you is dying to know about R2's first day at school. I will tell you.
Yesterday morning I woke up super early and couldn't go back to sleep. This usually happens any time I have a morning appointment. No matter that my appointment is at 9. The ol' brain thinks sleeping past 6:30 is risking it. So I lay there for an hour and then the babies woke up and took over the world. So we ate oatmeal and then I started getting Richy ready.
He looked so cute in his little uniform and he was pretty excited about evidently, something going on. We drove up to the school and went in and met the Autism Specialist, who was to be his buddy during his observation. Don't know if I explained this... since he's never been in school and he's in the 4th grade, they are legally required to observe him in a normal class to make sure he couldn't just be in normal classes. Their original plan was for him to sit in there the whole day, but I vetoed that. So they said maybe he could just go for an hour with this coordinator with him and observing... and I felt okay about that.
Elly (the specialist) was really great and liked him a lot. We got to the mainstream classroom about 10 minutes early so he could explore and get used to the room before the kids got there. And he was talking and wandering around, much more engaged in his surroundings than usual. So I hung around for a few minutes and then said goodbye and left just before the kids came in. I walked back down the long hallway to my van, enjoying all the antics and goofiness of all the little kids (we are the racial minority at the school)... and then I sat in my van and cried.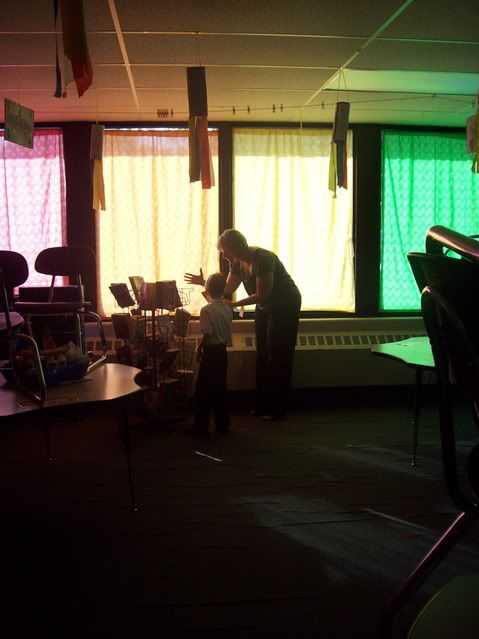 I came back in an hour and they had spent 45 minutes in the normal class and a little while in the special ed classroom... so we talked about how he did (great, he's sweet, follows directions, that's my boy) and what the plan will probably be. 80% of the time in the special ed class and then art, music and gym in his actual grade level, with a personal aide. I signed 40,000 papers and we made a temporary IEP (individualized education program). Nothing is really set in stone until they finish all his testing and evaluations in mid-October.
Then we went and looked at the special classroom. Now, this is where I started getting excited. They have bathrooms in there, where they work on pottying, as well as other hygiene skills. They also have a full kitchen where they practice cooking, and serving their own snacks. They eat family-style around a table, learning not just manners, but basic table skills like passing food around, and how to cut food, clean up, everything. One of the focuses of the program is teaching these kids some independence. Very cool. They also work on some academic and pre-academic skills, like shapes, letters, colors, numbers...
When we were done with checking out the classroom, we went to the front desk and got the bad news... he cannot start school officially until he has his shot records. Problem is, I have been trying to get those records for a month. They are in an archive vault somewhere in Houston and for some reason, no one can get them to me. VERY frustrating. So I've been on the phone countless hours (and you know how I love it) and am still getting a run-around. Still exploring possibilities and hoping I get an advocate, either at the school, or at the clinic in Houston.
So it's the story of my life, hurry up and wait.