The first day went well... the teachers send home a note every day- isn't that amazing? I was wondering how I would ever know what happened, since Richy's pretty much non-verbal.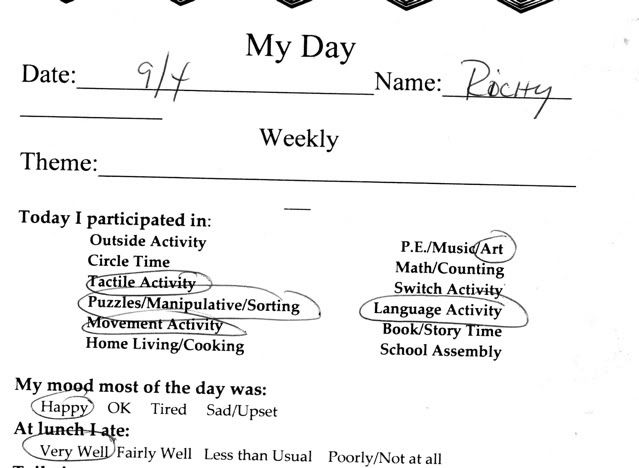 The nurse called me at 3, which gave me a heart attack... he had a rash on his neck. (probably from the Wal-mart starch in his shirt collar. I know, old-timers, I should wash the shirt before he wears it) I asked if I should come get him and she was sort of alarmed. Well, shoot! I don't know how these things work. I guess they just have to tell me anytime the nurse gives him anything, like hydrocortizone cream.
Interesting, though, evidently the nurse does an assesment of the special needs kids every day- that's cool!
The note made me feel so much better. :) He got fruit snacks instead of grapes today... little twerp.
The babies and I had a very good day... they did their normal play/eat/fight routines and Toby asked where Richy was about three times, but I only teared up the first time. Then they took a nap and it was so weird... the house was SO quiet. I cleaned a little, and laid down for a while, just at a loss a little. Today, I think I will take a nap too.
Daddy has been in Michigan since Tuesday. Toby asks where he is at every meal and every time we get in the car. Last night we went to a Parent thing at the school, and Toby thought we were picking up R1. I explained it to Toby, but R2 didn't get the memo... as we walked down the sidewalk, he was jumping and singing a little "We're gonna go see dad-eee" song. (Sorry to kill you, Richy- but hey! at least they miss you!)
---
In political news, it was a pretty good speech last night from Ol' Johnny boy. He was being awfully moderate in the middle and I was getting a little disgruntled... but he brought it home at the end with the war stuff. Fight! Fight! Fight!
(I watched Letterman's monologue last night, as I sometimes do when the MOG is AWOL. Hilarious observation from him about Palin... he said McCain may have made TOO good of a pick, leaving conservatives confused about who they want headlining the ticket... so true)