Prayer request from Josh: Meredith stuck at 7 cm ALL NIGHT. At hospital now. Asked everyone to pray for progression & safe baby.
This morning we all went to school... We dropped R2 off at his class and then went off to meet with the autism specialist. R2 was kinda concerned about Brynn and Toby being in his classroom, so we cleared out pretty quick. I had warned Elly about the likelihood of widespread toddler destruction, so she brought in a box of toys. Not very good toys, but
different,
so they were a hit.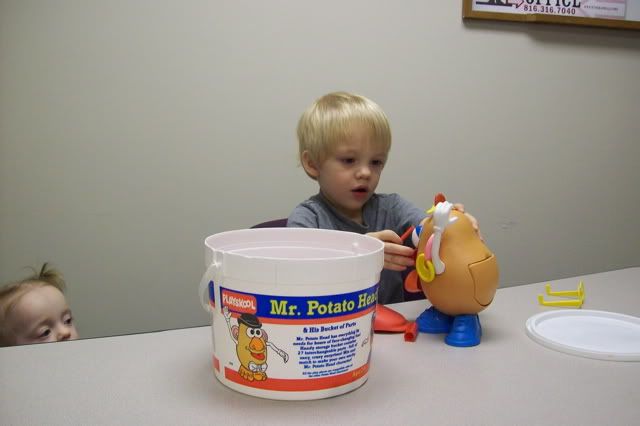 Toby put together a Mr. Potato Head (also known as "Buzz an Woody, mama!") It was pretty fascinating to watch him put ears on the mouth and stuff... he made some very interesting potatoes. 
We filled out a lot of paperwork.. today was what's called a social history, which is basically a verbal interview with me. I discussed his medical history, and what I consider his current skills, and what goals I have for the future. 
The thing is, the last couple of years, I have just been going day-to-day. My goals have been things like, I wish he would quit making that sound, or learn to put on his own shoes. Today, when she asked, the first thing that came to my mind was, "Independence." 
I want him to be able to do by himself. Not live alone, necessarily, but maybe have a job... I almost started crying when I talked about him maybe learning to read. I didn't realize that was so important to me. I feel like we've made progress this last 3 weeks... I have new hope for R2. 
A vid from when the Babes were in town...