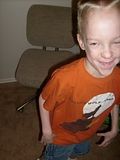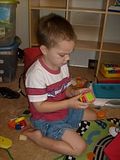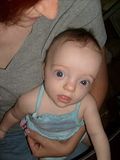 If there is ever a forehead shortage in the USA, you know where to look.
---
Today, tomorrow and Friday I have Steph's boys in addition to my trio. So far so good. I mean, yeah, there's been some screaming and hitting. But I'm sure I'll settle down soon.
Joking. Put down the phone.
Kids continually amaze me with their ability to play. R2 has always been more of a sidekick, in that pressed against your side breathing on your neck continual presence kinda sidekick. So Toby always surprises us by being allured by toys. Off he goes. The problem is that any toy being enjoyed becomes an object of desire for all the other boys. So they fight over it and R2 stands kind of nervously back and then later when they are all fighting over the new toy, he sneaks over and gets the old one.
Good things come to those that wait, they say.
Lunch should be fun. I think I'll start now.