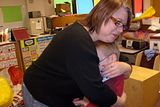 Back in the saddle
---
Exciting developments around here... we have started a new
website
, geared at informing supporters and enemies of what we're up to...
So, what
are
we up to, anyway?
Well. I will be doing what I always do, which is a lot of diapers... it's our hope to add one more diaper-wearer to the bunch in 2009... through adoption! I am also helping to start a ministry to special needs children and their families out of our local congregation here, and eventually through the whole International House of Prayer (IHOP).
Richy will continue to lead worship and tour with Radiant, and he will also be joining staff at the IHOP. He will also be planning and leading tours for the Call - with Radiant! So we are super excited about getting to be a part of all that is going on around here. We are in the process of raising financial support for 2009.
This is something I rarely talk about on my blog, I never want anyone to feel like I am going to take an offering at some random time. But I do want to explain
why
we raise support.
We make it our goal to be available to God... Radiant often plays at churches that could never afford a "big-name" worship leader, and we frequently break even after tours. In other words, no real financial profit. If we didn't believe our "work" has profit in another realm, it would seem wasted. We know it is never wasted.
So that's it. We give our time and our hearts and our lives to doing ministry. When you give to us, you are allowing us to give ourselves fully to this calling. Your support check does not cover the insurance on our yacht. It pays for rent, and groceries, and shoes... So we are asking for new and old financial supporters to join us in 2009.
If you want to send us as missionaries to America, sign up at support @ richyandjessica.com.