We just bought a bed off Craigslist... I have been haunting the free section for months now, but I never get to ads in time. Stuff is gone literally minutes after people post it. So today, when I saw a full size box spring, mattress and frame for 25 bucks, I got the jump on it. Because our minivan is awesome, all the rear seats come out or stow in the floor. So Richy was able to fit all of it inside the van. Yess.... and now it's all set up and R2 is very excited, since he gets to sleep in it unless we have guests.
And now, a little gratuitous cuteness for your viewing pleasure.
---
Father's Day card. Lots of things to write to Daddy.
Toby logic: If one apple is good, FOUR apples are GREAT.
Bean wants to play outside...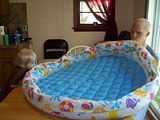 Daddy putting hot air to good use.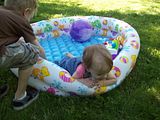 Bean gets to play outside. Kind of.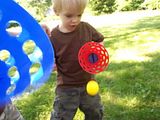 Discovery.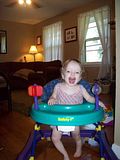 The most fun thing in the world EVER is walking.
---
In other news, I am trying to move into this house, which is good since we've been here 6 months. Unfortunately, half the garage is still populated by things in boxes that surely I need...