I didn't blog yesterday, FYI. Maybe you are so, so concerned and maybe even
freaking out.
If so, chill. You are way too invested in this blog, maybe even co-dependent. Now tell me, how did your mother relate to your father?
Mmhm
.
In other news, I am inspired. I checked out a very heavy load of books from the library about decorating on a budget (or free) and I have gotten a ton of ideas. Like this: (not my window)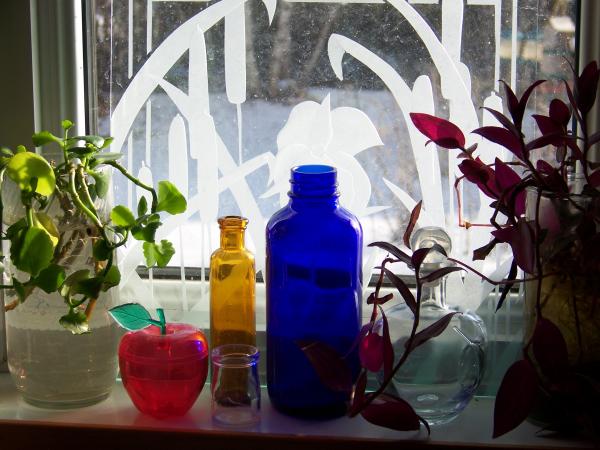 So maybe you're like "Uh, no
doiky
. Bottles on a windowsill are a beautiful and inexpensive way to decorate, DUH." If so, you are a little hostile. Snap out of it.
So I went today and bought some bottles from the thrift store and some little decorative things... and I put candles inside my
woodburning
stove, which looks pretty. It almost helps me forget the mountain of laundry on the couch and the boxes in the garage. Almost.
I also bought this chair, and have been mocked. I don't care... I saw stuff like this in my book, and I WILL learn how to decorate or die trying. Or I will lose interest and give up. Anyways. This chair was $1.98.
Yessss
.
I have discovered, through my
multitudinous
books, that I like country. Now at first, I was alarmed, because I do NOT like ruffles, or geese. Or peach and blue. Well,
whoda
thunk that that is not country? At least not the Country that Country Living ascribes to. So I'm country, y'all.
My next step is getting some cash and a garage sale buddy... and keeping my inspiration.