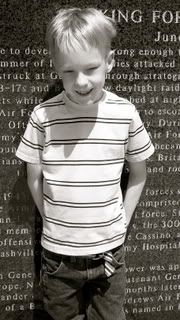 You may have noticed that most of my posts lately include a picture. This is on the express demand of the MOG... and it works out, since I take about 12 pictures a day.
Today we have a neurosurgery appointment... these are quite boring, since everything they need to know about is inside his skull. Or thereabouts.
So we'll spend the day dressing and bathing all thirty kids, and pack them in the van and drive around forever and unpack them and their paraphernalia, and walk around hospitals forever, and sit in waiting rooms and use gummy snacks for bribes, and color and beg Toby to STOP already, and so on.
All to get in the room and tell the doctor, no vomiting, no headaches or swelling or any other sign of shunt malfunction. We will repeat this information to the desk clerk, the decoy doctor, and finally, the neurosurgeon.
Nobody will believe we know anything, and they will give us a pamphlet we could have
written
about shunt malfunction. We will try not to be snarky and say that our child had a shunt while they were still in medical school. And finally, we will all smile and shake hands and pack all 400 kids and go home.
Tomorrow, we see the neurologist. That's a
little
more interesting.
Oh, and American Idol? Yessss.... the best man won. Now I will have a TV hiatus until January.