Today was a very exciting day for us... most of you have been following the story, but in case you haven't I'll recap. R2 (Richy the Second) was born 4 months early and as a result had numerous medical issues, ending (when he was about 4 months old) in a shrunken non-functioning left eye. 
We began the process of getting an ocular prosthetic (called a scleral shell) a few months ago. It's like a thick contact lens. We started with a clear conformer, which he has worn for 2 months to stretch the eyelid and make sure he can tolerate a prosthetic. So today was the big day to get the long-term shell, painted to match his good eye.


I got lost twice on the way there and once on the way back. Good times.

Once we were there, Dr. Turntine showed me the rough shell, which had to be sanded and painted and go through a variety of chemicals and machines before it would actually be wearable.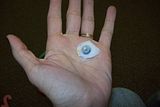 Then he brought Richy into his office and painted the iris while he watched him. I asked him if he did other art, and he does, watercolor and acrylics. He painted the blue and the blue-green and all the tiny little lines, and then he ran his paintbrush across some red thread and drew miniature veins on the corners of the shell.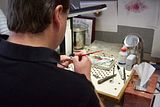 Throughout the process he would hold it up to R2's good eye and compare color and such.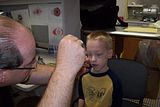 He drew in the pupil and then painted a clear coating over it all. We compared it one more time and then he put it inside something that looked like a vise, inside a pressure cooker. The curing process took over an hour so he sent us out and we got an oil change in the van, ate some lunch and listened to Rush in the van with the heater blaring (43 degrees out there, y'all).

When we got back, he took the shell out of the cooker and buffed it with that same circular tool they use at nail salons, and then exfoliated it further with a scary machine with a pumice. Then he used a big powered circular brush, and then he gave it to me to look at.

I dropped it on the ground first thing. Grace and ease, that's me.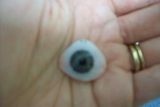 Luckily, it had to be disinfected anyway so we dropped it in the stuff (medical term) and waited a few minutes. Then he took out the old shell and put the new one in.
It was so surreal, looking at my son who is so familiar, and this eye, which is about a perfect match, and remembering that first 4 months when he had both eyes.... so familiar and so strange.
He admired himself in the mirror for quite a while. I think he understands.
after: